We write to Congress to advocate for social justice to eliminate hunger and poverty.
*******************************************************

Our most popular visuals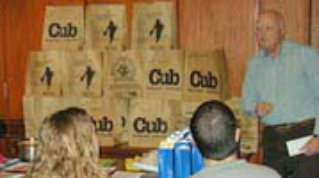 1. Our help to the needy in the U.S. -
Our food safety net

Contrast Charity and Justice as found in the Bible. Note that charity is temporary and advocacy for justice gets at the causes of problems.

Set up 24 grocery bags illustrating our total food safety net.
Remove 18 bags for the amount of help from the food stamps (SNAP) federal program.
Remove 3 bags representing the federal school lunch / breakfast program.
Remove 2 bags representing the WIC federal program.
All of this food was achieved by advocacy to our country's leaders.

The one remaining bag (about 4%) represents food from all of the food shelves, food banks and private and church feeding programs.
Discussion: Can churches cover all of our nation's food needs without federal programs?
How does the one private-sourced bag help to fill in the needs?
What would be the effect if our Congress people would cut federal efforts by one bag?
Are the 24 bags enough when there are still 48 million hungry people in the U.S.? How do we solve this?
(Check "Marty's Skit" below for another narrative of the grocery bags demonstration.)
---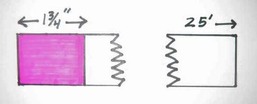 2. Our help to foreign countries addressing hunger and poverty

Use 25 feet of adding machine tape. Color the end.

Americans THINK we spend up to 15% of our federal budget on foreign aid for hunger and poverty – almost 4 feet.
Americans think we SHOULD spend about 5% on it – a little over 1 foot.

We ACTUALLY spend about one-half of one percent – about 1 ¾ inches.
---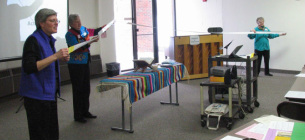 Keep the colored end covered in your hand as it unrolls.
Use three people to hold up the tape.
Stretch your arms to show the four foot and one foot points
and talk about how much Christians might want to give.
Then show the last (colored) part and discuss.
(Click here for a detailed version.)


---
********************************************************
To find your US Senator, US Representative, Minnesota State Senator and Minnesota State Representative
click here: http://www.gis.leg.mn/OpenLayers/districts/

Congressional Districts Maps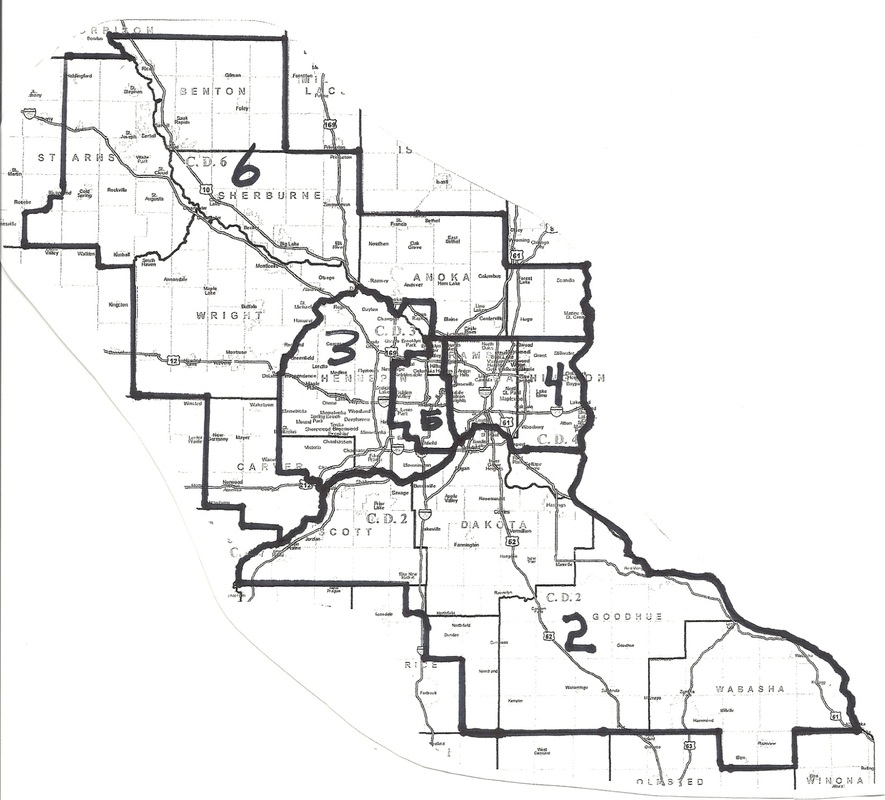 The Twin Cities' Congressional Delegation - 2015
If you would like a speaker for your congregation or group, please contact: Carol Dubay, (952-922-5695,
caroldubay@breadmn.org
)
JustFaith liaison: Karen Fitzpatrick (651-426-3530,
karenjimfitz@msn.com
)
Senators:
Sen. Amy Klobuchar
Sen. Al Franken
U.S. Senate U.S.Senate
Washington, D.C.
20510 Washington, D.C. 20510
To get help in doing an Offering of Letters at
Representative
your congregation, contact:
2nd district
Rep. Jason Lewis Scott Brazil
House of Representatives 952-217-0738
Washington, D.C. 20515 Scott.Brazil@risensavior.org
3rd district
R
ep. Erik Paulsen Carol Dubay
House of Representatives 952-922-5695
Washington, D.C. 20515 caroldubay@breadmn.org
4th district
Rep. Betty McCollum Vernita Kennen
House of Representatives 651-407-9235
Washington, D.C. 20515 vernitakennen@breadmn.org
5th district
Rep. Keith Ellison Dottie & Marty Fergus
House of Representatives 763-535-4235
Washington, D.C. 20515 martinfergus@breadmn.org
6th district
Rep. Tom Emmer Ed Nieman
House of Representatives 763-432-6597
Washington, D.C. 20515 ednieman@breadmn.org
Marty's Skit
A skit showing the Magnitude of Federal Food Assistance programs compared to what is provided by private Charitable Organizations.
Written by Martin Fergus, the original version of this skit was presented on May 13, 2012, at Calvary Lutheran Church, Edina, Minnesota. It is based on a grocery bag demonstration created by Cathy Brechtelsbauer and Tammy Walhof of Bread for the World. This demonstration has been used throughout the Upper Midwest and Plains states. What follows is a slightly revised and more generic version of this skit.
SCENE: Two long, church tables are on stage a few feet apart, one toward stage right with twenty-four empty grocery bags on it; the other toward stage left is empty. Rebekah (Bek) stands at one end of the stage right table, filling a bag with groceries to be delivered to the local food pantry. Dan enters from stage left, in front of the tables while Rebekah continues to fill a grocery bag.

DAN: Hi Bek. What you doin'?
BEK: Packing up groceries from the congregation to take over to the food pantry.
DAN: How much do you think you've got?
BEK: I'm not sure; last March, during the Minnesota FoodShare drive, we collected more than 100 pounds.
DAN: How well did our local food pantry do with that drive?
BEK: Great. They met their target – 100,000 pounds of food and $100,000.
DAN: Wow, that's a lot!
BEK: Yeah; and statewide, Minnesota FoodShare took in more than 4.4 million pounds of food and almost $8.5 million dollars as well!
DAN: That's impressive! Too bad that some of this might be undone by what's happening in Washington, D.C.
BEK: What do you mean? What's happening in Washington, D.C.?
DAN: Well, the House of Representatives is proposing to make deep cuts in food stamps and other nutrition programs. That could really make things tough for the people served by food pantries.
BEK: Why? How would that affect food pantries?
DAN: Well, cuts would mean more people needing help from food pantries – and fewer resources to do so, since part of their food comes from federal programs.
BEK: But if there's a cutback, couldn't they just have another food drive? And couldn't we up the amount of food we collect here at Calvary?
DAN: Well, look at it this way. How many bags do you have on that table?
BEK: I've got twenty-four of them.
DAN: OK. Now assume that these twenty-four bags represent all the food provided to those in need by both private giving and federal programs. How much do you think is provided by each?
BEK: Oh, I don't know. Our local food pantry and Minnesota FoodShare sure get a lot of support – look what they did in just in one month – and there are groups like that all over the country. Maybe half the food comes from private contributions and the other half from the federal government?
DAN: You mean sort of like this… (Dan places twelve of the bags on the empty table.)
BEK (looking at the bags on the tables): Yeah; that looks about right, fifty-fifty.
DAN: Want me to show you the actual numbers?
BEK: Well, OK. If you'd like to.
(Dan moves eleven more bags from Bek's table to the other table and looks at Bek.)
DAN: Just over 4% of the food for those in need comes from private donations; the rest is from federal nutrition programs.
BEK: Wow! I never imagined. What will people do if the federal nutrition programs are cut?
DAN: Yeah; what will they do? But we don't have to let it happen.
BEK: What do you mean? What can we do about it?
DAN: There are groups, like Bread for the World, that are organizing letter writing campaigns – to ask Congress to protect federal nutrition programs. Would you like to learn how you can get involved?
BEK: Well, I'd like to know more about it first.
DAN: That's fine. There'll be an information table at coffee hour today – why don't you stop by?
BEK: OK, I will! I'll see you there!
DAN (turning to the congregation): If you'd like to learn more, why don't you stop by too?
FINIS
******************************************************************

Advocacy & Educational Handouts
just a click away